MCB Performance -
MX / Dirt Cylinders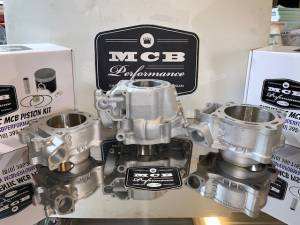 IMPORTANT: MCB maintains one of the largest selection of hard to find MX/Dirt/Vintage cylinders in the country. Unfortunately some are VERY hard to come by and with the huge surge in demand for the older MX bikes we are often out or have only one ready to sell. Because of customers NOT returning the cores we have implemented a policy that REQUIRES the customers core to be shipped to us and inspected BEFORE we will fill the order.
We prefer that you identify your CASTING number and email us to check stock on these cylinders before placing the order. We will then check inventory and see if we have a finished cylinder ready or if we have one in production. You may then place the order online which will "lock" that cylinder under your name and then ship us your core.
MAKE SURE YOUR CYLINDER IS NOT AN AFTERMARKET CYLINDER, PORTED OR IRON SLEEVED (IF YOUR CYLINDER FALLS INTO ANY OF THESE CATEGORIES WE WILL NOT BE ABLE TO PROCESS YOUR ORDER.)
ALL MCB CYLINDERS SENT TO OUR CUSTOMERS ARE 100% BARE WITH NO STUDS, POWER VALVES OR ANY OTHER FITTINGS - ANY REMAINING PARTS RECEIVED IN YOUR CYLINDER CORE WILL NOT BE RETURNED AND YOU WILL BE CHARGED A FEE FOR THE REMOVAL. ANY ADDTIONAL DAMAGE DONE TO ANY GASKET SURFACES WILL ALSO BE CHARGED A FEE TO REPAIR.
Thank You for your understanding - MCB Performance
------WE ARE ALWAYS LOOKING FOR USED OEM MX CYLINDERS, (CYLINDERS CAN NOT BE SLEEVED OR AFTERMARKET).-------
PLEASE EMAIL US PHOTOS OF THE YOUR CYLINDERS.
Select a Sub-Category