MCB Performance -
Ski Doo Factory Short Block Engine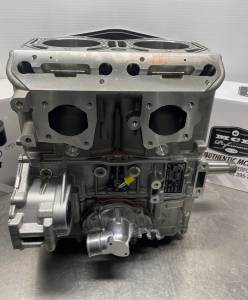 SHORT BLOCK CORE FEE $1200.
(CRANK CASE $600)
(CYLINDER $300)
(CRANKSHAFT $300)
CRANK CASE CANNOT HAVE ANY CRACKS, HOLES OR ANY OTHER DAMAGE. IF THE CASE IS DAMAGED YOU WILL LOSE $600 FROM YOUR CORE FEE.
CYLINDER CANNOT HAVE SIGNIFICANT BORE DAMAGE, AND IF THERE IS ANY DAMAGE TO THE TOP SURFACE OF THE CYLINDER WHERE THE HEAD SITS OR BROKEN SKIRTS YOU WILL LOSE THE $300 CORE FEE.
CRANKSHAFT CORE IS A GOOD CORE EVEN WITH SEIZED BEARINGS, OR BROKEN RODS/BENT RODS.
Browse Ski Doo Factory Short Block Engine
Products