Home

»

Catalog

»

Primary & Secondary Clutch Rebuilds by MCB
MCB Performance -
Primary & Secondary Clutch Rebuilds by MCB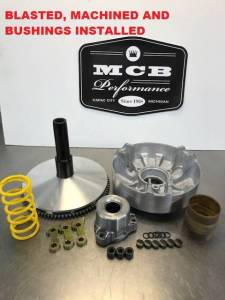 Have MCB rebuild your primary/drive and/or secondary/driven clutches. Cost for... Primary/Drive Clutch Rebuild - $100.00 plus parts Secondary/Driven Clutch Rebuild - $50.00 plus parts. Please call to setup order and instructions.
Browse Primary & Secondary Clutch Rebuilds by MCB
Products
Description:
This is a complete clutch. -Base Clutch -Weights -Spring -Weight Axle Pins -Axle Nuts -O-Rings We will build this clutch as an assembly so all you have to do is bolt it on. If you've ever...
More Details »
Description:
Let MCB Rebuild your secondary clutch. Cost for this service is $50 plus parts. Please call to set up order and get instructions.
Description:
MCB TREATS EACH CLUTCH INDIVIDUALLY, AND ONLY AFTER DIAGNOSIS AND CONSULTATION WITH EACH CUSTOMER DO WE START THE REBUILD. UPON RECEIVING YOUR CLUTCH OUR PROCESS IS AS FOLLOWS: DISASSEMBLE...
More Details »
Condition:
Remanufactured
Please Call for Availability