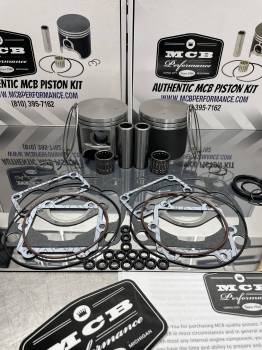 Arctic Cat ZR500, ZL500, CARB, EFI, Powder Special Mountain Cat 500, ERS, 500cc MCB piston kit complete with gasket kit 1998, 1999, 2000, 2001, 2002 (CAST)
Best Arctic Cat ZR500 ZL500 CARB EFI Powder Special Mountain Cat 500 ERS 500cc MCB piston kit complete with gasket kit 1998 1999 2000 2001 2002 SM-09679 SM-09605 3005-250 3005-815 3005-796 (CAST)
Arctic Cat 500 Piston kit includes:
Premium Hypereutectic cast piston (same as OEM). Most complete kit on the market
Includes:
- 2 Pistons (20 or 22mm wrist pin depending on your year and model choose at checkout)
- 4 Rings
- 2 Wrist pins
- 2 Wrist pin bearings (20mm or 22mm wrist pin bearings) please check this prior to ordering as models can have 20mm or 22mm wrist pins)
- 4 Circlips
- Instructions with torque values
- MCB sticker
- Remanufactured cylinders available as well if needed.
- Replaces OEM piston part number 3005-250 and or 3005-815 and 3005-796
- You can choose top end or full engine gasket set with crank seals at check out.

Description
Fits:

See drop down option to choose your year, make and model please
Shipping Information
Item Requires Shipping
8.0 lbs.
W10.0000" x H8.0000" x L6.0000"
Customer Reviews
Total Reviews (0)
You must login to post a review.
---
---
Share Arctic Cat ZR500, ZL500, CARB, EFI, Powder Special Mountain Cat 500, ERS, 500cc MCB piston kit complete with gasket kit 1998, 1999, 2000, 2001, 2002 (CAST) on Facebook