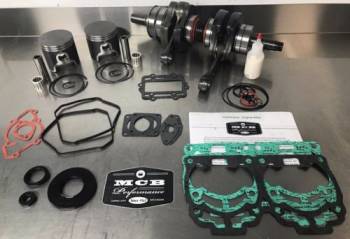 Ski-Doo MXZ Renegade Summit XRS Freeride Back Country 800R ETEC 2010.5-18 MCB Stage 2 Engine Rebuild Kit
PLEASE NOTE:

MCB Pro-Series Engine kits are simply the highest quality engine rebuild kits available. Period!

These are the exact same components MCB Performance uses in-house for our well known MCB Pro-Series Long Block Engines.
We start with professionally re-manufactured OE crankshafts that are 100% diassembled, maganafluxed, gauged, indexed and trued to perfection.
We ONLY use Koyo and Fag bearings that exceed OE specs to ensure long life and replace all parts that show ANY wear at all.

These assemblies are built by skilled craftsmen that take pride in producing precision parts that can stand the abuse of a powersports environment.
Our MCB pistons are made to OUR specifications in an ISO9001 environment and have proven for many years to have better than OE durability while increasing overall performance.

MCB pioneered the SD Dual-ring piston design solving numerous problem all at once and we continue to refine each and every part we sell, giving the customer peace of mind that he is buying a premium,well engineered, product.
Our rings are manufactured by the exact same plant that provides rings for F1 teams /Ducati / and TRD Racing

The Pro-Series engine kits are COMPLETE with everything you need to rebuild your engine other than external items you may or may not want to consider;
(check valves, thermostats, oil lines, etc) but we have those all available if you want to phone an order in.
We also can completely re-manufacture your engine to better than new should you decide that having a professional rebuild your engine is a better choice.
We're just a phone call away and unlike many " internet engine" shops we are available to help you make decisions and guide you through the process.
We don't just sell parts....we build success.


FITS:
SKI-DOO 800R ETEC
MXZ - MXZ XRS - MXZ TNT - Summit - Summit X - Renegade - Adrenaline

*** Photo may be generic, however shows all parts you will receive for your sled ***
MCB STAGE-2 KIT Includes:
- Pro-Series ready to install crank/rod assembly
- MCB Premium Dual-Ring Pistons, Rings, & Pins
- Premium caged pin bearings
- Wiseco circlips (the best)
- Teflon crank seals
- Genuine Isoflex grease (where applicable)
- Complete premium Interface gasket kit
- All necessary o-rings and pump seals to completely rebuild the engine.
Although we highly recommend you download a Factory service manual for your specific model for torque values, and other specifications ,we include detailed top end instructions to help you along the way.
Details
Categories
MCB Engine Rebuild Kits: STAGE - 2 SKIDOO
Shipping Information
Item Requires Shipping
32.0 lbs.
W24.0000" x H10.0000" x L12.0000"
Customer Reviews
Total Reviews (0)
You must login to post a review.
---
May We Suggest
---
---
Share Ski-Doo MXZ Renegade Summit XRS Freeride Back Country 800R ETEC 2010.5-18 MCB Stage 2 Engine Rebuild Kit on Facebook