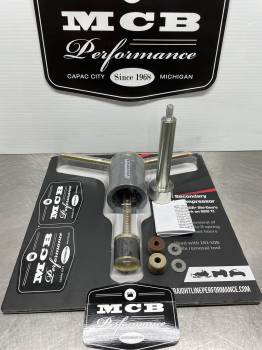 Ski Doo XRS secondary rollers, QRS jackshaft removel tool, QRS XP Helex Removal Tool complete service kit.
Complete service kit: Everything you need to change your Ski Doo QRS secondary rollers on any 2008 current Ski Doo XP, XM, XR chassis sled.
Inlcudes:
- Billet coated MCB jackshaft removal tool
- Straightline perf XRS helix removal tool (Works on all years 2008-2023 internal or external thread jackshafts)
- Fett Bros fiber wound impact resistant performance secondary rollers.

Makes helex changing an easy job. Works on internal and external threaded QRS shafts. 2008-2020 except 900 ACE
Makes jackshaft removal easy with the MCB tool your chain and sprocket remain held in position while servicing the complete secondary system.
Performance and impact proven rollers that do not crack by Fett Bros performance.
Shipping Information
Item Requires Shipping
5.0 lbs.
W10.0000" x H10.0000" x L10.0000"
Customer Reviews
Total Reviews (0)
You must login to post a review.
---
---
---
Share Ski Doo XRS secondary rollers, QRS jackshaft removel tool, QRS XP Helex Removal Tool complete service kit. on Facebook