MCB Performance -
Piston Kits
When purchasing a piston kit you will recieve everything you need to rebuild your top end, including...2 pistons & rings, wrist pins, circlips, caged needle bearings (on skid doo 600/670/700/800 models only), complete top end gasket set, instruction sheet w/ torque values and tech tips, mcb stickers.
Select a Sub-Category
Click here for your MCB piston kits. If your cylinders are all scuffed up refer to our cylinder exchange section for information on our cylinder exchange program.
Click here for SPI piston kits. If your cylinder is all scuffed up refer to our cylinder exchange section for information on our cylinder exchange program.
Piston Kits
Featured Products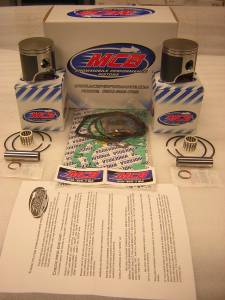 Description:
Ski Doo Piston Dual Ring 600 HO MCB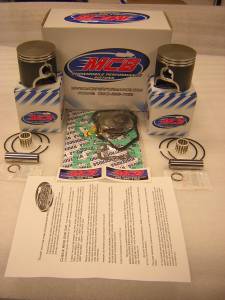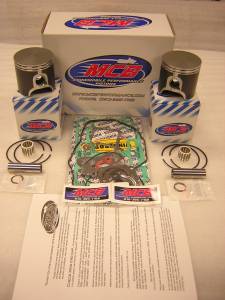 ---
More About
Piston Kits
MCB Performance Center specializes in two stroke snowmobile pistons. We focus on selling you a complete kit that includes everything you need to rebuild your sled. We offer some exclusive designs and options that the competition just does not offer, mainly our Ski Doo 600HO, 800HO and 800-R dual ring designs that we are the originator of these dual ring designs starting back in the fall of 2008. These pistons have had amazing results both for performance and reliability. Our pistons are used exclusively by dozens of performance shops all around the U.S, Canada, Norway, and Sweden. Shops such as Sled Head racing in MN, BP specialties in Oregon, Terra Alps Racing in BC Canada, King Enterprise Andover, MN and Dou Bois WY. Not to mention the thousands of individual customers who have purchased them over the past three seasons. New for 2010 we have added oiling holes to our 800 HO design. This is yet another improvement for reliability that the competition just does not offer. New for 2011 we are offering a new coating that is a permanent coating. All standard pistons weather they are MCB, SPI, Wiseco, etc. have a coating on them that is just a break in coating. This standard coating tends to come off rather early in the life of the piston. In an ongoing effort to continually improve our pistons we have added the option of this new coating. Testing during the 2010/11 season has proven this coating to be very durable and lasting. This coating has to be asked for and has an upcharge of $30.00 per piston. When purchasing pistons from MCB you will find that we offer several helpful tips to assist you in rebuilding your sled. On our site in the Tech section you can find guides for Ring Gap settings, piston to cylinder wall clearance guides, PDF manuals for Torque values etc. We even have YouTube videos demonstrating a top end rebuild for the more popular models such as the Ski Doo 800 REV 2003-2007. We offer a tech department that you can feel free to call if the information that we have on the site does not fulfill your needs and questions.